VenaSeal Closure Treatment
VenaSeal Closure Treatment For Varicose Veins
This is a kind of painless procedure for Varicose Veins treatment with quick recovery of patient. The VenaSeal closure system is the non-thermal procedure approved by U.S. FDA. VenaSeal closure treatment uses a specially formulated medical adhesive that is used to close the diseased varicose vein. The VenaSeal™ closure system  in pune treats symptomatic venous reflux disease in the lower extremity superficial venous system, which is often the cause of painful varicose veins.
The VenaSeal Procedure In Pune, Pcmc
The VenaSeal procedure in pcmc is a simple and straightforward treatment administered by a medical doctor. Patients remain fully awake during the entire procedure, and pain is rare. The portion of the leg where the procedure will be performed is thoroughly numbed so the patient won't have pain or discomfort during the procedure. Once the leg is numb, a slender catheter is placed within the vein. Through the catheter, the VenaSeal   procedure in pune superglue is precisely injected into the damaged veins. Finally, the doctor applies a bit of pressure to the area to ensure that the vein is sealed shut.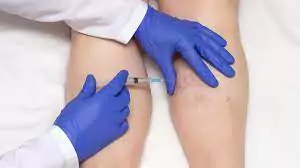 VenaSeal Closure Treatment is Medically Approved by US Governemnt
How VenaSeal Closure System in Pune, PCMC/Procedure Is Performed?
Trained surgeon fills the syringe with the formulated medical adhesive
This syringe is inserted into the dispensing gun which is attached to the catheter
Catheter is advanced into the diseased varicose vein
Surgeon pulls the trigger to insert medical adhesive
Then compression is applied to the respective section
Benefits of VenaSeal Closure System in Pune, PCMC
Following are some of the benefits of VenaSeal closure treatment
This treatment requires just one injection point, instead of multiple injections or punctures or cuts in other treatment.
This enables rapid recovery for patient and patient can be back to the normal life in a day or two.
No risk of burning or nerve injury
This results in permanent closure of lower superficial truncal veins
VenaSeal Closure system in pcmc, pune . This Treatment is medically approved by US FDA and this uses advanced medical adhesive to efficiently close the diseased varicose vein segment with permanent and quick recovery. This treatment is suitable for adults who are suffering from varicose vein disease having pain or other symptoms.
Dr. Sushil Deshmukh is one of the few doctors in Pune who are experts in the VenaSeal procedure for Varicose Veins Treatment. Fill the form or directly call us.
Incoming Tag:-venaseal closure system in Pune, pcmc,  venaseal closure Treatment in Pune, pcmc, venaseal closure Treatment in pune, pcmc, VenaSeal Closure system in pcmc, VenaSeal Procedure In Pcmc, VenaSeal Procedure In Pune